Activities...
At The Dog Walking Co. we know, that being pack animals, dogs enjoy the social interaction that group dog walks and company provide, and the behaviour, that leaving a dog for a long period of time can cause, such as destructiveness, barking and separation anxiety. We can lend a helping hand to give your dog a stress free day when you're away!
DOG WALKING
Whether you are away from home during your day and would like some company and exercise for your dog, or are home, but unable to take them for a walk, we can collect him or her for an hour long walk, full of fun, with other friends, (never more than 4 at any time), and then return them, leaving them safe, fed, watered, happy and clean! (we like to get muddy and sandy) until you get home. You can then get on with your day, relaxed and confident that your pooch is in safe and loving hands. Regular or ad-hoc walks are available.
DOGGY DAY CARE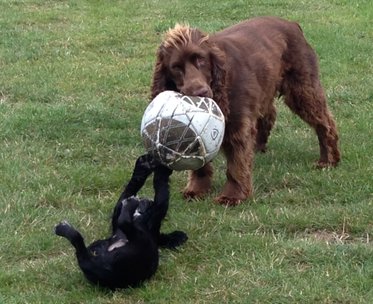 At The Dog Walking Co, you can drop your dog at our home, or pick up can be arranged, where they can spend the whole day with us, leaving you worry free. They will enjoy plenty of play time outside with our spaniel, Ziggy and will join us on an hour long walk with other pooch pals, and a shorter afternoon walk before they're ready to come home! Your dog will be free to roam in the large, secure garden or snuggle up inside for a well earned rest after a fun filled day, returning home to you exercised and happy. We can follow any meal time routines that you have, just bring their favourite lunch along! They will be treated with the same love and care as our own dog. A home from home.
HOME FROM HOME BOARDING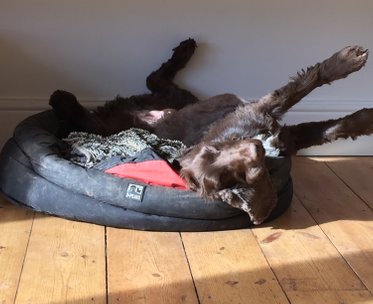 The Dog Walking Co. offers a sleepover alternative to kennels. Your dog will simply come and stay in our home as part of our family. You and your dog will come and visit our home before their visit so you can see where they will be staying. You can go away reassured that they will be getting the same love and attention as our own spaniel, Ziggy. We'll have the same fun, care and walks as our Doggy Day Care service, then your dog can enjoy the evening with us before a big sleep. Bring your own bed and food and we'll provide everything else.
We request that all dogs in our care are up to date with all vaccinations, including kennel cough, as well as flea and worming treatments.